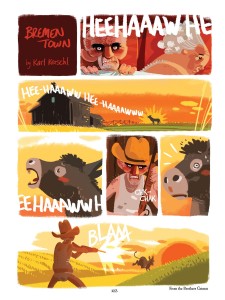 Karl Kerschl is pretty much universally praised for his comics art — from superhero work for the major publishers to videogame tie-ins, to the critically-acclaimed, Eisner-winning The Abominable Charles Christopher — and is constantly in demand for various projects. The latest of those will see release next week in the form of Fairy Tale Comics from :01 Books, edited by Chris Duffy and with a couple-dozen of the greatest talents in comics contributing. Kerschl was kind enough to take time away from his newborn daughter to talk about how he almost passed on Fairy Tale Comics, a shift from his usual artistic style, and the stories that grab us.
Fleen: When Chris Duffy invited you to be a part of Fairy Tale Comics, what made you decide to contribute?
Kerschl: I wasn't going to, initially. I really liked the concept but I was extremely busy and I think I actually turned him down. Chris eventually badgered me into it by extending the deadline. I like Chris a lot and it's really hard for me to say no to things, even when I probably should.
Fleen: What was it about fairy tales that intrigued you? Something made it different than, say, a miniseries tied to a videogame.
Kerschl: Fairy tales have always resonated with me; the structure of them and the lyrical quality. It's much closer to my heart than working on traditional superhero/action stuff. And I also really liked that they're open to so much interpretation. You can read the same fairy tale told by a dozen different people and they all differ in some way — some quite drastically — as they're retold over the years. That's one of the fun side-effects of an oral tradition, I guess. So it was an interesting challenge to try to adapt one with my own spin and contemporary sensibilities.